Vayda Cosmetic Price List
Vayda Skin Care Product Line
A luxurious and potent cream, used at nighttime to rejuvenate skin appearance and help brighten skin tone. Night Renewal Cream uses Retinol in significant strength for the rejuvenation of skin tone and texture.
Key Ingredients: Retinol, Vitamins C & E, SNAP-8 Neuropeptide, Sodium DNA & RNA.
Is the result of the latest advances in skin care science, Nano Q10 Cream contains powerful anti-oxidant and anti-pigment agents , working to safely and effectively restore skin's youthful appearance and texture.
Nano Q10 features a third-generation growth factor-type ingredient (Oligopeptide-34). Oligopeptide-34 "mimics" human growth factors, by suppressing early melanin formation by alpha-MSH.
Combined with the growth factor-type are a combination of anti-oxidants and featuring Co-Enzyme Q10, an energy restorative that is highly bioavailable. Also included are Resveratrol-rich Red Wine extract and Vitamin C, reinforcing the anti-pigment function.
Nano Q10 features a new-generation nano-particle delivery system, comprised of a double-layer sphere that can carry larger molecules such as oligopeptides deeper into skin layers. The double-layer system improves particle stability, reducing degradation as it continuously releases actives.
Key Ingredients: Oligpeptide, Co-Enzyme Q-10, Red Wine Extract, Vitamin C, Vitamin E, SNAP-8, Sodium DNA and Sodium RNA, Silk Protein, Sea Mineral Complex.
Key Ingredients: Retinol, Vitamins C & E, SNAP-8 Neuropeptide, Sodium DNA & RNA.
Eye Lift and Erasing Cream
Advanced Eye Lift and Erasing Cream
Key Benefits:
Instant effect for relief of eye bags and puffiness
Anti-wrinkle effects obtained quickly and without irritation
Contains Proprietary Complex based on moisturizer and peptide-rich mollusk extract
Product Description: An elegant and fast-acting eye cream that helps reduce the appearance of fine lines and wrinkles, as well as bags and puffiness in the eye area with visible results in as little as ten minutes.
Performance:
Proprietary Complex for eye anti-aging effects
Advanced Eye Lift & Erasing Serum contains a synthetic complex based on Mollusk excretions, mimicking the rejuvenating effects on damaged skin found from snail extracts but without the risk of allergic reactions. With high concentrations of Hyaluronic Acid and Glycosaminoglycans plus oligopeptides and trace minerals, our proprietary compound helps provide rapid, visible relief to wrinkles and damaged skin in the eye areas.
Neural Inhibition
The key action of Eye Lift and Erasing Cream is the inhibition of neurotransmission to muscles in the eye areas. Our own proprietary complex is used to suppress signals to the muscle membranes allowing muscles to relax and leading to significant wrinkle relief.
Rapid Action
A silicone-elastomer system works as a wrinkle line filler. and skin softener, and enables rapidly visible results from using the cream, as eye bags and puffiness are noticeably reduced within minutes of application.
This formula is paraben-free
| | |
| --- | --- |
| Key Ingredient | Role |
| Synthetic Mollusk Complex, includes the following: |   |
| | Humectant/Water-binding and anti-aging |
| Glycosaminoglycans (GAGs) | Cellular repair and reinforcement, moisture retention. |
| SNAP-8 Oligopeptide & GHK Copper Peptide | Peptide for wrinkle relief |
| Trace Minerals ( Copper, Zinc, Calcium) | Moisture Retention and energizing |
| | Moisturizer and Anti-Inflammatory |
Product Type: Eye area wrinkle and anti-puffiness/bags cream
Unit Size: 0.5 oz (15ml)
Usage: Can be used once or twice daily
Skin Types: Compatible with All Skin Types
Complete Ingredient List: Water, Dimethicone, Cyclopentasiloxane, Glycerin, Hyaluronic Acid (and) Panthenol (Vitamin B5)(and) Glycosaminoglycans (and) Acetyl Glutamyl Heptapeptide-1 (and) Copper Tripeptide-1 (and) Copper PCA (and) Zinc PCA (and) Calcium PCA, Laureth-12, Squalene, Santalum Album (Sandalwood) Extract, Phellodendrom Amurense Bark Extract, Hordeum Distichon (Barley) Extract, Aloe Barbendesis Leaf Extract, , Hydrolyzed Wheat Protein,, Phytic Acid, Triticum Vulgare (Wheat) Germ Oil, Linoleic Acid, Simmondsia Chinesis (Jojoba) Seed Oil, Propylene Glycol, Glycerin, Sorbitol, Tocopherol (Vitamin E), Urtica Dioica (Nettle) Extract, Equisetum Arvense (Horsetail) Extract, Cucumis Sativus (Cucumber) Extract, Centella Asiatica Extract, Chamomilla Recutita (Matricaria) Extract, Chlorella Vulgaris Extract, Hydrolyzed Algin, Lecithin, Phenoxyethanol, Capryl Glycol, Ethylhexylglycerin, Hexylene Glycol.
Day Moisturizer Lotion (SPF-30+)
An effective day lotion that protects against solar damage to skin as both sun protection and as an anti-oxidant complex, working as part of a system of skin brighteners to reduce the signs of hyperpigmentation and dark spots.
This formula is paraben-free.
| | |
| --- | --- |
| Key Ingredient | Role |
| Octinoxate (7.5%) | UV-B Defense |
| Homosalate (10%) | UV-B Defense |
| Oxybenzone (4%) | UV-A & UV-B Defense |
| Octisalate (5%) | UV-B Defense |
| Vitamin D | Anti-Oxidant |
| Vitamin E | Moisturizer and Anti-Oxidant |
| Vitamin A (Retinyl Palmitate) | Rejuvenation Agent |
Product Type: Daily Sun Protection Lotion
Usage: Use once in day time
Skin Types: Compatible with most skin types
Active Ingredients: Octinoxate (7.5%), Homosalate (10%), Oxybenzone (4%), Octisalate (5%)
Other Ingredients: Water, Aloe Barbandesis Leaf Juice, Carbomer, Cetyl Alcohol, Cholecalciferol (Vitamin D), DEA-Cetyl Phosphate, DMDHydantoin (and) Iodoprocynyl Butylcarbamate, Hydrogenated Polybutene, Retinyl Palmitate, Stearic Acid, Tocopherol Acetate, Triethanolamine.
Directions. Apply evenly to the face 15 to 30 minutes before going outside.
Cautions: For External Use Only. Keep out of the Reach of Children. Avoid contact with eyes or mucous membranes. To prolong this product's effectiveness store in a cool, dark place.
FermeCare by VAYDA SKIN CARE
The natural solution for UV-damaged skin
Introducing FermeCare. An innovative skin care solution for protecting and restoring damaged skin and restoring skin's youthful appearance, using a patented fermentation and manufacturing process of enhancing Resveratrol strength.
The Science
Skin is damaged and aging is accelerated from excessive exposure from sunlight via UV radiation; damage takes the form of Radical Oxygen Species (ROS) that react with human skin and inhibit its ability to repair itself.
Damage from UV radiation-induced stress results in skin that becomes dryer, dull, and rough in texture and appearance. The formation of wrinkles and fine lines are accelerated and the amount of Post-Inflammatory Hyperpigmentation (PIH) visibly increases. Over time the damage to skin can be further manifested as Actinic Keratosis or even as Melanoma or Carcinoma.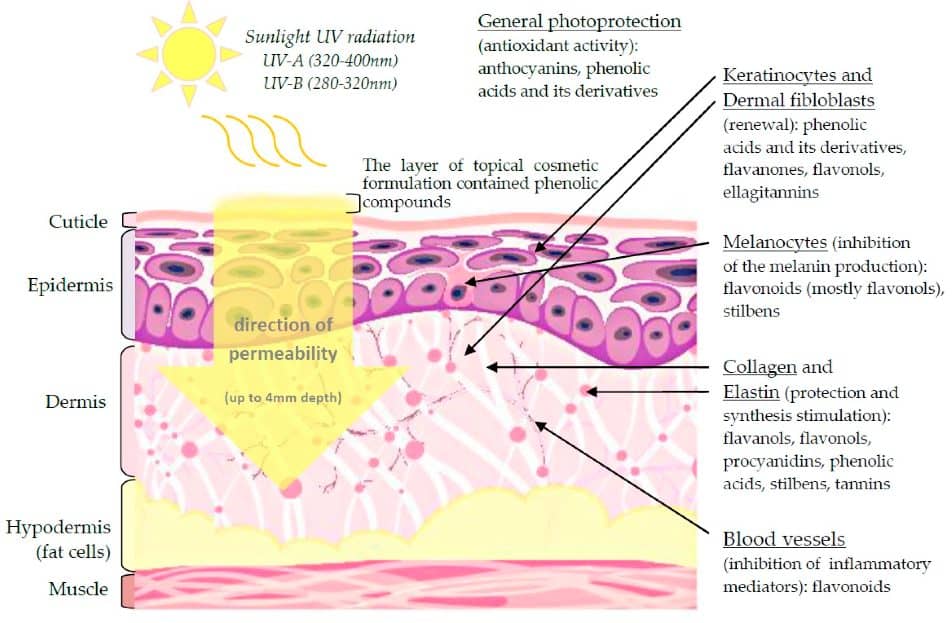 Among the new generation of antioxidants used in skin care is Resveratrol, a naturally-occurring polyphenol found in a wide variety of botanicals that has significantly potent anti-oxidant, anti-inflammatory, and age delaying strengths. Resveratrol is however highly prone to oxidization and therefore can easily lose it's anti-oxidant strength during the manufacturing process.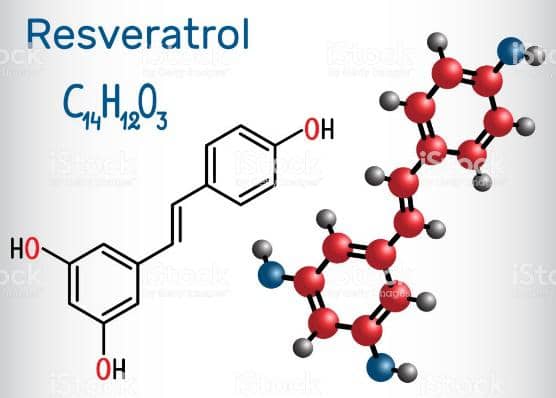 The Solution
The Key to FermeCare is the combined process of specialized fermentation to create enhanced resveratrol strength within the end product. The entire process is done under specific guidelines to ensure a maximum level of product performance. (US Patent 9,770,480 and patents pending)
Resveratrol composes one part of a four-element complex to provide an advanced rejuvenation system for repairing damaged skin and preventing damage. These elements compose:
Fermented Resveratrol
Fermented Resveratrol provides high-performance anti-oxidant capability against ROS and UV-induced stresses on skin, as well as helping to reduce the appearance of PIH legions.
New-Generation Oligopeptides
Palmitoyl Tripeptide-1 and Palmitoyl Hexapeptide-12 work in conjunction to stimulate healing of skin cells, increasing collagen, elastin and GAG synthesis and strengthening connective tissue between cells
Polyglutamic Acid (or PGA)
A high-molecular weight amino acid polymer, PGA functions as a natural humectant with water -binding performance greater than Hyaluronic Acid, able to increase skin's Natural Moisturizing Factor.
Phosphatidylserine
A phospholipid with strong effects in preventing UV-damage to skin cells, inhibiting MMP-1 expression and stimulating Keratinocyte Differentiation, leading to better regulation of the production of differing types of skin cells.
Working in combination, these elements provide both a highly effective defense and prevention against UV-damage to skin cells as well as stimulation, rejuvenation, and reinforcement of skin cells.
The Performance
FermeCare's product performance was initially documented via a clinical study involving the treatment of Actinic Keratosis (AK) lesions using a gel made with the patented FermeCare process. Patients participating this independent double-blinded study observed a 50 to 85% reduction in AK lesions without corresponding inflammation. Post-trial pathology also revealed skin showed increase thickness and improved texture after trial period application.
Additional studies for the current generation of FermeCare formulas have displayed substantial improvement in skin texture, tone, and luminocity after usage, as well as a visible reduction in PIH with no inflammatory response after thirty days of use.
Indications and Usage
Subjects with visible skin damage from UV exposure, including wrinkled and dull sagging skin or visible pigmented lesions, are optimal candidates for using the FermeCare system. Additionally subjects who are looking for a preventative solution to avoiding damage from UV exposure can benefit from using the FermeCare system.
FermeCare system items can be used as part of day and night skin care regimes, to provide an anti-oxidant defense of skin during the daytime hours of sun exposure, and to repair damage from ROS and to restore skin at nighttime. Products are formulated to be gentle on skin and can be accepted by all skin types without irritation.
The Products
None of FermeCare products are formulated with the following: Artificial colors, scents, or fragrances, or Paraben-based preservative systems
FermeCare The Serum
An easy-gliding, quickly penetrating gel-type serum formulated with the FermeCare patented process of Fermented Resveratrol repair and restore skin damaged from environmental stress. Lightly formulated, to be compatible with SPF-rated sun protection for maximum effect.
In addition to Fermented Resveratrol includes New Generation Peptides (Palmitoyl Tripeptide-1 & Palmitoyl Hexapeptide-12), PGA humecants, and Phosphatidylserine for protective effect against UV-induced damage.
Unit Size 1 oz (30ml)

Can be used on all skin types, recommended for daytime use.
FermeCare Serum complete ingredient list: Water, Cyclopentasiloxane, Dimethicone/Vinyl Dimethicone Crosspolymer, Dimethicone, Carbomer, Polysilicone-11, Nylon-12, Silica, PEG-10 Dimethicone, Polyglyceryl-2 Stearate, Glyceryl Stearate (and) PEG-100 Stearate, Cetyl Alcohol, Resveratrol, Squalane, Pentaerythrityl Tetraisostearate, Caprylic/Capric Triglyceride, Stearalkonium Hectorite, Propylene Carbonate, Palmitoyl Tripeptide-1, Palmitoyl Hexapeptide-12, Tetrahexyldecyl Ascorbate, D-Panthenyl Triacetate, Caprylic/Capric Triglyceride, Linoleic Acid, Glycine Soja (Soybean) Sterols, Polyglutamic Acid, Phospholipids, Stearyl Glycyrrhetinate, Lauryl PCA, Isopropyl Myristate, Lecithin, Tocopherol, Helianthus Annuus (Sunflower) Seed Oil, Santalum Album (Sandalwood) Extract, Phellodendron Amurense Bark Extract, Hordeum Distichon (Barley) Extract, Simmondsia Chinensis (Jojoba) Seed Oil, Neopentyl Glycol Diheptanoate (and) Isododecane, Cetearyl Alcohol (and) Cetearyl Glucoside, Butyrospermum Parkii (Shea Butter), Propanediol,Tocopherol Acetate, Isoprene Glycol, Polysorbate 40, Isohexadecane, Ammonium Polyacryloyldimethyl Taurate, Phenoxyethanol, Caprylyl Glycol, Ethylhexylglycerin, Hexylene Glycol, Triethanolamine.
promotes eyelash growth in a safe and effective topical solution applied to the lashes themselves. See package insert/brochure for details
2.5ML $125
5ML $150
Product Description: A waterless, dimethicone-based healing serum specifically designed for post-treatment care for laser-based therapy. Post Recovery Serum uses a botanical complex of anti-inflammatory, healing, and moisturizing agents to soothe skin and rapidly help reduce redness and inflammation, enhancing the recovery process and reducing the recovery time after treatment.
Anti-Irritation Serum can be used immediately after most laser procedures as well as procedures with IPL/RF-type devices.
This formula is paraben-free.
| | |
| --- | --- |
| Key Ingredient | Role |
| Panthenyl Triacetate (Vitamin B5) | Anti-Inflammatory and Moisturizer |
| Millet Seed Extract | Water Binding |
| Stearyl Glycerrhetinate | Anti-Inflammatory |
| Aloe Vera | Healing and Moisturizing |
|   |   |
Product Type: Post-Laser and post-treatment recovery serum
Usage: Can be applied 2 to 3 times daily as necessary
Skin Types: Compatible with most skin types; use sparingly with oily skin.
Unit Size: 2 oz
Full Ingredient List: Dimethicone, Panthenyl Triacetate, Millet Seed Extract, Stearyl Glycerrhetinate, Capric/Caprylic Triglycerides, Linoleic Acid, Phospholipids, Aloe Barbadensis Leaf Extract, Alpha Bisabolol, Isopropyl Myristate, Lecithin.