The natural solution for UV-damaged skin
Introducing FermeCare. An innovative skin care solution for protecting and restoring damaged skin and restoring skin's youthful appearance, using a patented fermentation and manufacturing process of enhancing Resveratrol strength.
The Science
Skin is damaged and aging is accelerated from excessive exposure from sunlight via UV radiation; damage takes the form of Radical Oxygen Species (ROS) that react with human skin and inhibit its ability to repair itself.
Damage from UV radiation-induced stress results in skin that becomes dryer, dull, and rough in texture and appearance. The formation of wrinkles and fine lines are accelerated and the amount of Post-Inflammatory Hyperpigmentation (PIH) visibly increases. Over time the damage to skin can be further manifested as Actinic Keratosis or even as Melanoma or Carcinoma.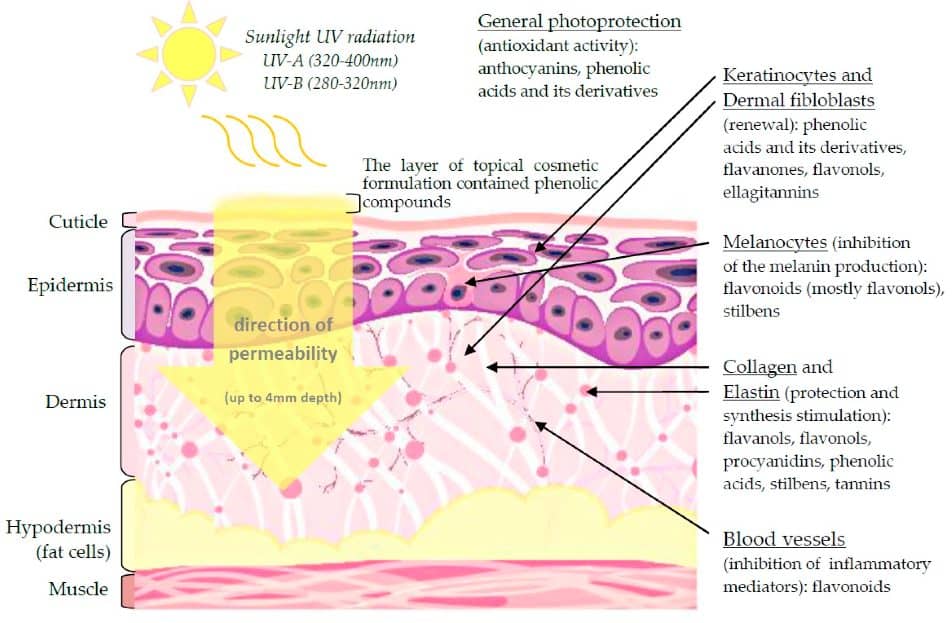 Among the new generation of antioxidants used in skin care is Resveratrol, a naturally-occurring polyphenol found in a wide variety of botanicals that has significantly potent anti-oxidant, anti-inflammatory, and age delaying strengths. Resveratrol is however highly prone to oxidization and therefore can easily lose it's anti-oxidant strength during the manufacturing process.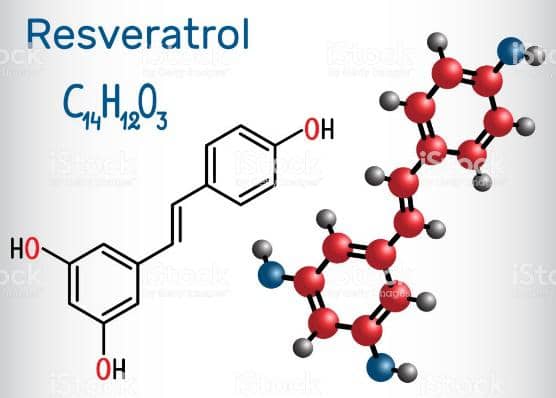 The Solution
The Key to FermeCare is the combined process of specialized fermentation to create enhanced resveratrol strength within the end product. The entire process is done under specific guidelines to ensure a maximum level of product performance. (US Patent 9,770,480 and patents pending)
Resveratrol composes one part of a four-element complex to provide an advanced rejuvenation system for repairing damaged skin and preventing damage. These elements compose:
Fermented Resveratrol
Fermented Resveratrol provides high-performance anti-oxidant capability against ROS and UV-induced stresses on skin, as well as helping to reduce the appearance of PIH legions.
New-Generation Oligopeptides
Palmitoyl Tripeptide-1 and Palmitoyl Hexapeptide-12 work in conjunction to stimulate healing of skin cells, increasing collagen, elastin and GAG synthesis and strengthening connective tissue between cells
Polyglutamic Acid (or PGA)
A high-molecular weight amino acid polymer, PGA functions as a natural humectant with water -binding performance greater than Hyaluronic Acid, able to increase skin's Natural Moisturizing Factor.
Phosphatidylserine
A phospholipid with strong effects in preventing UV-damage to skin cells, inhibiting MMP-1 expression and stimulating Keratinocyte Differentiation, leading to better regulation of the production of differing types of skin cells.
Working in combination, these elements provide both a highly effective defense and prevention against UV-damage to skin cells as well as stimulation, rejuvenation, and reinforcement of skin cells.
The Performance
FermeCare's product performance was initially documented via a clinical study involving the treatment of Actinic Keratosis (AK) lesions using a gel made with the patented FermeCare process. Patients participating this independent double-blinded study observed a 50 to 85% reduction in AK lesions without corresponding inflammation. Post-trial pathology also revealed skin showed increase thickness and improved texture after trial period application.
Additional studies for the current generation of FermeCare formulas have displayed substantial improvement in skin texture, tone, and luminocity after usage, as well as a visible reduction in PIH with no inflammatory response after thirty days of use.
Indications and Usage
Subjects with visible skin damage from UV exposure, including wrinkled and dull sagging skin or visible pigmented lesions, are optimal candidates for using the FermeCare system. Additionally subjects who are looking for a preventative solution to avoiding damage from UV exposure can benefit from using the FermeCare system.
FermeCare system items can be used as part of day and night skin care regimes, to provide an anti-oxidant defense of skin during the daytime hours of sun exposure, and to repair damage from ROS and to restore skin at nighttime. Products are formulated to be gentle on skin and can be accepted by all skin types without irritation.
The Products
None of FermeCare products are formulated with the following: Artificial colors, scents, or fragrances, or Paraben-based preservative systems
FermeCare The Serum
An easy-gliding, quickly penetrating gel-type serum formulated with the FermeCare patented process of Fermented Resveratrol repair and restore skin damaged from environmental stress. Lightly formulated, to be compatible with SPF-rated sun protection for maximum effect.
In addition to Fermented Resveratrol includes New Generation Peptides (Palmitoyl Tripeptide-1 & Palmitoyl Hexapeptide-12), PGA humecants, and Phosphatidylserine for protective effect against UV-induced damage.
Unit Size 1 oz (30ml)

Can be used on all skin types, recommended for daytime use.
FermeCare Serum complete ingredient list: Water, Cyclopentasiloxane, Dimethicone/Vinyl Dimethicone Crosspolymer, Dimethicone, Carbomer, Polysilicone-11, Nylon-12, Silica, PEG-10 Dimethicone, Polyglyceryl-2 Stearate, Glyceryl Stearate (and) PEG-100 Stearate, Cetyl Alcohol, Resveratrol, Squalane, Pentaerythrityl Tetraisostearate, Caprylic/Capric Triglyceride, Stearalkonium Hectorite, Propylene Carbonate, Palmitoyl Tripeptide-1, Palmitoyl Hexapeptide-12, Tetrahexyldecyl Ascorbate, D-Panthenyl Triacetate, Caprylic/Capric Triglyceride, Linoleic Acid, Glycine Soja (Soybean) Sterols, Polyglutamic Acid, Phospholipids, Stearyl Glycyrrhetinate, Lauryl PCA, Isopropyl Myristate, Lecithin, Tocopherol, Helianthus Annuus (Sunflower) Seed Oil, Santalum Album (Sandalwood) Extract, Phellodendron Amurense Bark Extract, Hordeum Distichon (Barley) Extract, Simmondsia Chinensis (Jojoba) Seed Oil, Neopentyl Glycol Diheptanoate (and) Isododecane, Cetearyl Alcohol (and) Cetearyl Glucoside, Butyrospermum Parkii (Shea Butter), Propanediol,Tocopherol Acetate, Isoprene Glycol, Polysorbate 40, Isohexadecane, Ammonium Polyacryloyldimethyl Taurate, Phenoxyethanol, Caprylyl Glycol, Ethylhexylglycerin, Hexylene Glycol, Triethanolamine.